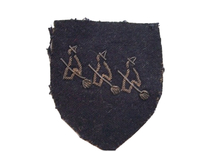 Soon after we bought our present house in 1970, Jimmie converted a room into a bar, mainly because the first bit of furniture we bought together before we were married was a bar, (much to my Mother's horror)! Sometime afterwards he bought three witches on springs, and hung them from the ceiling in a corner of the bar. When friends came round, he would joke that they were his wife, mother-in-law, and her sister. Little did I know then, that I would find, that three witches had another significance in his life.

Soon after Jimmie died in 2006, I came across the testimonial from Jimmy Langley and Google pointed us at the MI9 Escape and Evasion book, that had been on a small bookcase by my husband's chair for many years and so the journey began...

I sent the Daily Mail Lost and Found column one of the few army photos in Jimmie's belongings, with the information that I had and was lucky enough to have it published. One reply was from a lady in Lancaster (Marion, Bryan Park's widow) whose husband's story was very similar to Jimmie's. She told me that her husband drove Major Langley and Major Johnston around and he was at the Liberation of Belsen. Jimmie had told me he was also there and gave his driver permission to go in. Jimmie always told us that he was very glad he chose not to enter as when his driver came out he was violently sick. Marion was able to confirm that his driver was her husband and we swapped photos including a picture of Jimmie in one of Bryan's photos and the picture of Bryan that I had, taken outside 218 Avenue de Tervueren Brussels, Belgium. Also in one of Brian's photos was a sign with the three witches on it. What a fantastic find and talk about the hand of fate - Marion is usually a Daily Telegraph reader but her newsagent had run out so she bought the Daily Mail that day!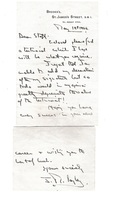 My daughter Sarah managed to get in touch with J M Langley's son, Roddy, after just a couple of emails, (the wonders of the internet!) and we met in London where he recommended that we read Fight Another Day and there is a bit in it where his father says that he sent a small unit from headquarters to Belsen before he went off to cross the Rhine - I think we can now identify two of the people who were part of that small unit.

Sarah also remembers her father asking her to read Six Faces of Courage by Professor Michael Foot. As she handed it back to him he said that he used to write postcards to Andrée de Jong, signed from her Aunt. She also remembers him saying that he took a car to the coast that was ultimately to reach her.
---
Jimmie's army paybook was among his things, and so I decided to send for Jimmie's army records from the Ministry of Defence which showed he was in Northern France for some months. These records are very helpful if you are trying to find out about someone during the war, but you have to show identity and next-of-kin relationship to get them.

SOLDIER'S SERVICE BOOK
SERVICE AND CASUALTY FORM
We would love someone to shed light on how/why a member of the Royal Engineers might be transferred to MI14, as we have no understanding how Jimmie, a grammar school boy, managed to get into the War Office.
It is now
April 2011
and recently I have been reading various WW11 books, and I am reading Escape and Evasion by Ian Dear and on page 25 is this passage
'IS9 (WEA) was attached to Eisenhower's Supreme Headquarters Allied Expeditionary Force (SHEAF) so that it could establish and maintain a close liaison with all other SHEAF departments and formations whose actions might affect escapers, evaders or allied POW. It had its own sign: three witches on broomsticks, a reference to another famous First World War escape book, The Road to En-Dor by E.H.Jones. It formed two mobile interrogation teams and four rescue teams all of which could be sub-divided or amalgamated as required. Attached to each rescue team were Dutch or French-speaking men or women known as Retrievers. Their task was to pass through enemy lines to locate and then escort to safety any escapers or evaders known to be in the area in which the team was operating.'
Very little seems known about the three witches badge and few seem to have survived the war, certainly this is the only one of this shape we have come across so far - somebody suggested it might be from a dress uniform and the rectangular shape from the regular uniform.
February 2013:
I was reading my latest book Safe Houses are Dangerous by Helen Long (I am in touch with her son Christopher Long) and on page 161 is the following:-
"On the 14th July 1942 in response to a broadcast from London the people of Marseille turned out in their thousands to demonstrate their pro-Allied and anti-Nazi feelings.
Nothing seemingly could have been more innocent. And nothing as it turned out, could have been more encouraging and supportive of those who had felt themselves isolated and in the minority in their attitude to the Vichy Government. For everyone who had kept this simple appointment engineered from London, had surely been listening to the BBC, and had felt an irresistible urge to stand up and be counted.
Since no rules had been broken, no charges could be made, and the crowd were free to disperse afterwards to the fury and frustration of the baffled German and Vichy authorities.
Even school children were by now beginning to join in. The Germans did not know the French for a safety-pin was une epingle anglaise, with the result that safety-pins in varying sizes became the latest craze, worn conspicuously by all age groups. Unpunishable badges of support for the Allies.
More expensive and prestigious 'safety-pins' in the form of jewelled brooches were also being sported by the wealthier Marseillais. But these, being made to order, could only be commissioned from a jeweller known to be a supporter of the cause. Only when the Germans realised the meaning of the French words for safety-pin and recognised the badges for what they signified, were they banned in all schools. But by then it was too late. The pins (along with knitted caps, ladies' compacts and earrings, and children's yo-yo's, with their red, white and blue RAF roundels) and the 'Great Walk' had served their purpose". Extract by kind permission of
Christopher Long
.
I have copied this extract because, when sorting out Jimmie's things after he died, I found a small envelope folded up with an elastic band round it that contained different sizes of safety-pins in it. I said to myself, what on earth has he kept safety-pins for, stupid man, and threw them out. Also, all the time I have known Jimmie he has had a yo-yo. It was a small tatty wooden one, but I just thought it was from his childhood and wanted to keep it, but maybe it was from the war. So now, of course, these things mean so much more to me and are other bits of the jigsaw I am trying to fit together.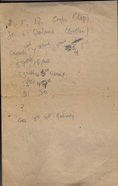 I got so interested in all this, that I went on a WW11 trip in July 2013.,

I took various copies of the badge and other papers Jimmie left and the guide took one look at the piece of paper with army units written over it and immediately said that's Operation Veritable a pincer movement for Operation Market Garden.

Still more research to do!
---

December 2013: Marion and her daughter have just found a newsletter and on the top of the paper are Three Witches. It is newsletter No 18, the final one for the unit and it has written on the top Restricted. A copy is on the IS9 WEA page of this site. I wonder where numbers 1 to 17 are?

All the way through this research, I suddenly come across things that spark memories. The other day, I came across the name Peter Baker (ex Conservative MP) and realised that my husband had his book, Confessions of Faith, for years. I also remember him introducing me to Peter Baker many years ago.

I was looking on the website Arcre.com and I put three witches into their search bar, and to my delight it came up with T-Force. Meaning Target Force. I spent the next hour reading about T- Force. that were units that followed the fighting soldiers, to secure the interesting parts of the German Army, factories record offices, laboratories etc and in the few paragraphs at the end, witches on broomsticks were mentioned.

January 2014: Reading the book about T-Force by Sean Longden and on page 108 I have come across the witches again, very similar to the bit I found a few days ago on the internet. It reads as follows

'Furthermore, many officially sanctioned investigators arrived at targets to find that others - who they referred to as witches since they flew over everyone's heads on broomsticks,- had got there before them. It seemed that some of the agencies who had sponsored investigations wanted them to reach the targets first, ensuring that other interested parties did not receive the relevant information.'

Jimmie told me one story about when he and others were walking down a road in Germany, they saw in the distance a convoy coming towards them. They quickly dispersed into the forest and hid as the Germans went passed. Afterwards Jimmie found out they were the convoy that was going to sign the surrender.

From the IS9 WEA battle order, we found that Jimmie's cousin, Harry Sykes, was in the same unit - something he never shared with us.

April 2014: We have been very lucky, yet again as we have been able to visit Wilton Park. My children went as I was on holiday. There is still one building left, and it was named Shean Block after the war, it was part of Camp 20 during the war.


| | |
| --- | --- |
| | My second trip to Brussels, my daughter and I decided to investigate a fort which was a resistance museum. It was at Huy on the River Muerse with cable car access. This we duly took and were deposited on scaffolding that we had to climb down to the roof. We found some steps and entered a WW11 Prisoner of War Camp. It was full of memorabilia, and we were speechless. We looked around. and it was really humbling to get an insight into the hardships that our soldiers went through. An amazing experience and well worth a trip. |
PS.
This has nothing to do with the war, but it is rather a nice family story that would not have happened, only for the intriguing memorabilia left to me by Jimmie. As mentioned above, the WW11 trip I went on, we stayed in Berlin for 2 nights and the morning the tour went round Berlin I did not go with them, I went on another mission. Unilever sent my father, mother, and brothers to Wannsee Berlin in 1927 to 1931 to their office to sort out their accounts. I have a photo and address of the house they lived in, so I put it on Google and it looked as if it was still there. I got a taxi and off I went. The driver found the house (with thanks to sat-nav) I rang the bell, the lady was in, she could speak perfect English, she invited me in and showed me all over the house and I have a picture of my mother on the balcony at the back of the house in 1927 and now I have a picture of myself on the same balcony 87 years later. I have challenged my grandchildren to emulate this feat in 2027. I will be watching! Thanks Jimmie!