Date from
January 1944
20/03/1944
25/12/1944
January 1945
15/04/1945
17/04/1945
22/06/1945
05/04/1946


Date To
June 1945
21/06/1945




15/01/1946


Information
Senior NCO in unit under J M Langley
Chief Clerk IS9 (WEA)
Brussels 218 Avenue de Tervueren
Brussels
Belsen liberated
Authority to interview issued. Stamped 6/6/44
Chief Clerk GSI HQ 8 Corps
Transfer to army reserve from RASC



Source
Testimonial
Paybook
Back of photograph
Back of photograph

Certificate form NC9
Paybook
Certificate

Every book I read, every document I found got so close to mentioning my husband without actually ever seeing his name. To our excitement, below is a IS9 WEA Battle Order that someone kindly found for us, that clarifies Jimmie's role, listing James Smith in the Advance HQ. We knew he managed to get his cousin an administrative job, what we didn't know until we saw this document was that his cousin, Harry Sykes, was in the same unit as him.

Battle Order IS9 WEA. Jimmie and his cousin Harry Sykes are named in this Advance Headquarters Battle Order 4th and 5th ones down and Jimmie's driver Bryan Park is 10th on the list.

We are very keen to understand if the Advance HQ of IS9WEA would have been with the Advance HQ of the 21st Army.



We would also like to understand the route of the Advance HQ of IS9WEA through Europe.

My family took me to Brussels a few years ago and we found 218 Avenue de Tervueren and I now have photo's of my family outside the same door 68 years apart and the tree opposite the building has grown but is still there. We also visited the
Musee de la Resistance
in Brussels, a tiny place and they didn't know that this building was used in Brussels. The museum was fascinating and well worth taking the time to go there.
| | | |
| --- | --- | --- |
| This is the only example we have found to date on the internet I understand that the coloured insignia (a wavy red line on a blue bar on a red diamond) is of the Royal Canadian Artillery in the 1st Canadian Army, indicating that the Royal Canadian Artillery Captain on the right of the photo is attached to the 1st Canadian Army. The Corporal on the left of the photo is in the Royal Canadian Army Service Corps, but his Army/Corps affiliation cannot be determined as the colour of his 'diamond' is not certain in black and white. The senior officer with the cigarette in the centre of the photo is General Harold Crerar, Commander in Chief of the Canadian Army in WW2. | | |
| | |
| --- | --- |
| | We were kindly sent this from a private collection - the most fantastic drawing of the three witches on a postcard. We understand that it was drawn by Leo Fleskens who worked with IS9 as an S Phone operator in Mosquito aircraft flying close to the occupied territory to receive information from contacts on the ground. This one is signed down near Maastricht by Leo and was sent to Hilda Bergsma, another Dutch operator. |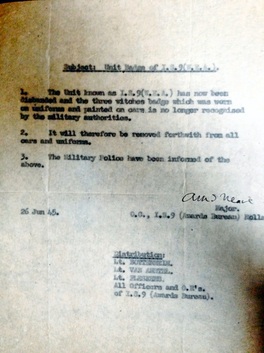 And finally the unit was disbanded and instructions issued to take the three witches badge off uniforms and vehicles.

---