In January 1942 IS9 was set up as part of MI9. From Jimmie's military record and paybook, we can see that on 14th January 1942, he was moved from MI14 to dd.9 (x), so we know he was in IS9 from the very beginning.
The history of IS9 can be found on
the Arcre website
, however the staff list with this document only details the officers and Jimmie was a non-commissioned officer
.

Number: 5/2193081 James Smith Rank W O II (SQMS)
Date from
13/11/1939
18/04/1941
14/01/1942
July 1943

Date to
03/04/1941
13/01/1942
19/03/1944


Information
Chief Clerk, 5th ? Batallion
MI14 Clerk at the War Office
dd.9 (x) MI9
Group photograph dd.9(x)


Source
Paybook
Paybook
Paybook
Back of photograph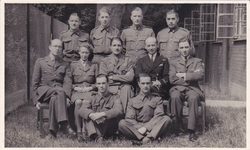 We know that he was stationed for a long time at Wilton Park and lived in digs at 24 Hyde Green, off Amersham Road, Beaconsfield. He mentioned that he visited Bletchley Park, and we think this would have been to go to the communications room on the upper floor.

IS9 was Camp 20, located in out-buildings in the grounds of Wilton Park, where we believe this photo was taken in July 1943. Jimmie's in the top row, second from the left. He was 24 years old.



Our thanks to Sarah Paterson from the IWM who managed to find a captioned photograph in the archives so we now know:
Reading left to right:-
Back: PTE M.DANIELS R.A.S.C. S/SGT J.SMITH R.E. S/SGT C.R.MORLEY MBE R.E. CPL W. HOLT R.E. MIS-X
Middle: CAPT J.D.H.BANKS I.C. E. VAN BERGEN ATC. MAJ H.B.A.DE BRUYNE R.A. LT D.R.W.ANDREWS R.N.V.R.
F/LT A.A.JOHN R.A. Front: P.DE LA M. NORRIS R.A. CPL D.G.JONES RWF
M Daniels name is on the I.S.9 (WEA) Battle Order April 1945 under G-2 Div, S.H.E.A.F. Rear H.Q., Jimmie's name is on the Advanced H.Q.

We also know Jimmie was at Baker Street, in Room 527 Metropole Buildings, Northumberland Avenue, London and Fulmer Hall. He had addresses for Major de Bruyne, one in Gerrards Cross Bucks and Worthing Sussex, and an address in Farnham Common Bucks for Commander Rhodes RN.

---
John Morley, visited us after he found the photograph of his father S/SGT C.R.MORLEY on this site. His father is listed as the Topo. Draughtsman on the above Clerical Establishment chart. Fortunately John recognised his father's commanding officer's signature in the front of a book of flags that was nearly thrown out - see below. Jimmie's signature is also there towards the bottom of the third column but we need to do further research to see if this is all of IS9 at Wilton Park or a wider group from MI9. John's father was awarded the BEM, see below, but no records seem to exist of this medal being awarded!

Camp 20 at Wilton Park was based in a single story building that was named after the war as Shean Block. It was in the grounds near the White House (the main building) which was Camp 300 where they had some of the famous 'listeners' monitoring important prisoners of war. Shean Block has recently been demolished despite attempts to have it preserved but we are still hopeful that the developers will add some sort of memorial to ensure that the historical importance of the site is not forgotten.